Karen Glaser meets an extraordinary soloist: the pianist whose vivid memoir of survival in wartime Warsaw is available in English after 50 years.
Striking the right notes
When the first Nazi bombs rained down on Warsaw in September 1939, Wladyslaw Szpilman, a Jewish pianist, was playing Chopin's Nocturne in C sharp minor live on Polish Radio.
The shells were so loud that the young musician could barely hear his instrument. Later that day, a German bomb landed on the power station and loudspeakers all over the city were struck dumb. It was to be another six years until Polish Radio found its voice again.
Though he did not know it at the time, it was also to be another six years before Szpilman would be a free man ­ except that his post-war freedom would be a paler, tainted version of is former self. For, during the Nazi occupation, the erection of the ghetto, the round-ups of Jews, and the demolition of his beloved city, Szpilman was to lose all his family and most of his friends.
His survival was due to a series of terrifyingly narrow escapes, uncannily good judgments and, in the final instance, the humanity of a German officer for whom Szpilman played the same Chopin Nocturne on a piano found in the ruins of a Warsaw Villa.
Immediately after the war, Szpilman recorded his dance with death in a diary.
The result is "The Pianist," an emotionally harrowing, compelling work which was suppressed by the Communist authorities in Poland following its original publication in 1946 but which has recently been re-issued to great acclaim in Germany.
The new British edition includes extracts from the wartime diary of Wilm Hosenfeld, the German who saved Szpilman and whose writing rages against the savagery of the Third Reich. The man, whom Szpilman describes in his text as "the one human being wearing a German uniform that I met," later died in a Russian POW camp.
After the war, Szpilman went on to become a composer, concert pianist of international standing, and director of music at Polish Radio, where his boss suggested that he write his wartime story. Now 88, the writer still lives in Warsaw.
"It is the only city in the world where I can live" says Szpilman, a small, elegantly dressed man who sits very upright with one leg crossed neatly over the other.
Strange though this may sound, Szpilman's love of Warsaw-the city where half a million Jews were murdered - makes more sense when you learn that he feels "first Polish and then Jewish ."
Nevertheless, it still seems confusing that he seems unable, or unwilling, to grant that there could be any tension between these two parts of his heritage.
"The Polish people helped me; without them I wouldn't have survived" he says, adding, "and don't forget Poland was an occupied country"
His refusal to criticise Poland, a country where anti-Semitism had been embedded for years before the Nazis invaded, may derive from the fact that his family was neither religious nor Zionist. His parents, two sisters and brother were, however, accomplished members of the Polish intelligentsia, people whose murder was a loss in cultural as well as human terms.
Szpilman says that he thinks about them much more now that he is retired and his days relatively unoccupied. "When I wrote my diary it was as a chronicle, I was not thinking
about my heart. Then I was busy for years with my work. But now I have a lot of time to think and I feel guilty. I don't know what to do with myself."
"The Pianist, " by Wladyslaw Szpilman, is published by Victor Gollancz at f l 2.99.
It will be reviewed here in the near future.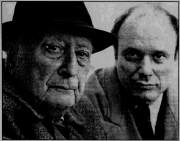 Wladyslaw Szpilman (left) and his son Andrzej, who contributes a foreword to the book
JEWISH CHRONICLE
19.03.1999