Spricht Wladyslaw Szpilman (Speaks Wladyslaw Szpilman)

Yadvashem Museum about Hosenfeld
German officer who saved 'The Pianist' honored


AP By DAVID RISING and MARY LANE, Associated Press Writers – Fri Jun 19, 9:12 am ET

BERLIN – German officer Wilhelm "Wilm" Hosenfeld saved two Jews from the Nazi Holocaust, including Wladyslaw Szpilman, whose story was the basis of the Oscar-winning film "The Pianist." But he died in obscurity in a Soviet prison after World War II.
More than 60 years later, Israel's Yad Vashem honored him Friday with the "Righteous Among the Nations" distinction — presenting members of his family with a medal in tribute to the actions he took in Warsaw.
"He exercised a very, very human kind of behavior and he had to hide this from the unit he was part of, and do it on his own — it was quite dangerous," Yad Vashem Chairman Avner Shalev said by telephone before the ceremony, which he was unable to attend due to other commitments.
"He really is the kind of person who should be honored and decorated as a unique human being."
Hosenfeld's son Detlev welcomed the recognition for his father. "It is so important to me today to make clear to young people, who have a totally different perspective on life, that the Holocaust for us Germans is a moment in time that must not be forgotten," he said during the ceremony at Berlin's Jewish Museum.
Hosenfeld was an officer in the Wehrmacht stationed in Warsaw for most of the war. Though he had joined the Nazi party in 1935, he grew disillusioned with Hitler and the war crimes being committed — keeping diaries documenting the abuse of Jews and others.
The first Jew he is known to have helped was Leon Warm, who escaped from a train to the Treblinka death camp during the 1942 deportations from Warsaw. Warm made it back to the city, where Hosenfeld provided him with a false identity and gave him a job in a sports stadium, according to Yad Vashem.
Hosenfeld encountered Szpilman in 1944, when the musician was looking for somewhere to hide after the city was razed in the brutal Nazi suppression of the Warsaw Uprising.
"He was left helpless, he didn't have any shelter ... when he was moving among the ruins of the buildings he was found by this officer, Wilhelm Hosenfeld," Shalev said. "He was sure that he had caught him and that he would shoot him down on the spot, but this German officer gave him some food, gave him a blanket and told him to stay in a place, and then provided him with more food and supplies."
Szpilman's experiences became the basis for Roman Polanski's 2002 film "The Pianist," for which Polanski won the best director Oscar and Adrien Brody took the best actor prize for his portrayal of Szpilman.
Hosenfeld was taken prisoner in 1945 by the Soviets and sentenced five years later to 25 years in prison on charges that he interrogated prisoners during the Warsaw Uprising and sent them to detention, "thereby strengthening fascism in the struggle against the Soviet Union," according to Yad Vashem.
He died in a Soviet prison in 1952.
Szpilman had applied to Yad Vashem in 1998 to have his rescuer recognized. But the awards commission wanted to first make sure there was nothing to the Soviet allegations, Shalev said.
"All the facts are here: He saved two Jews and he risked his life himself by doing it, and didn't get any reward for it," Shalev said. "He was not involved in executions or performing any crimes against humanity as a soldier — he interrogated Polish citizens, but we couldn't find any sign he did anything against the basic code of human behavior."
Szpilman's son, who helped lobby for the award after his father's death in 2000, said it was long overdue.
"From the beginning of the war, Wilhelm Hosenfeld gave help to many people regardless of religion or race, but after the war he experienced injustice," Andrej Szpilman said. "What is happening here today is the least that can be done for the people who distinguished themselves by defying orders."
German Officer Made Famous in 'The Pianist' Named as Righteous

By Gwen Ackerman
Feb. 16 (Bloomberg) -- Wilm Hosenfeld, the German officer whose assistance to Wladyslaw Szpilman in the movie "The Pianist" made him famous, has been posthumously recognized as a Righteous Among the Nations for risking his life to save Jews during World War II.
Hosenfeld was named by the committee set up by Israel's Holocaust museum Yad Vashem after Szpilman wrote to Yad Vashem to say that the Wermacht officer stationed in Poland helped him find a hiding place and provided him with food, blankets and moral support in November 1944.
The pianist also mentioned Hosenfeld in his diaries, which later became the basis for Roman Polanski's film "The Pianist," the museum said in an e-mailed statement.
The title, Righteous Among Nations, is awarded by a special commission headed by a Supreme Court justice based on a well- defined set of criteria and regulations, according to the Yad Vashem Web site.
Poland honors those who rescued Jews
By RYAN LUCAS Associated Press Writer
Article Last Updated: 10/10/2007 11:12:34 AM EDT
York Sunday News

WARSAW, Poland—Poland's president on Wednesday honored more than 50 people who saved Jews in Poland during the Nazi Holocaust, including the German officer who helped Wladyslaw Szpilman, the musician whose story was the basis of the film "The Pianist."
President Lech Kaczynski, who has long been an advocate of close relations with the Jewish community, clasped red-ribboned medals around the necks of 31 Poles who saved Jews during the World War II Nazi occupation. Twelve more people were honored but unable to attend, and 10 received an award posthumously, including the German officer.
"In those days, to protect a Jew or person with Jewish roots was risking not only one's own life, but also one's family," Kaczynski said at a grand ceremony at Warsaw's National Opera House. "Those who saved Jews showed a special heroism, a special determination to protect others from the ultimate harm."
All of the Poles honored, many of whom walked gingerly with canes or were pushed in wheelchairs, have already received the "Righteous Among the Nations" award from Israel.
Kaczynski also presented the Commander's Cross to the daughter and son of Wilm Hosenfeld, a German officer who helped save the pianist Szpilman, whose survival Roman Polanski chronicled in his Oscar-winning film.
"It's a great honor for us that our father was honored by the Polish president and by Poland," said Jorinde Krejci-Hosenfeld, 75, who attended the ceremony with her brother Detlev Hosenfeld, 80.
"Our father really loved Poland and Warsaw," Krejci-Hosenfeld added. "He was very unhappy about what happened here in the name of the German people."
Krejci-Hosenfeld last saw her father in Hessen, Germany in May 1944 when she was 11 years old and her father had a three-day leave. Hosenfeld was later captured by the Soviets, and died in a Soviet camp in August 1952.
Israel's Yad Vashem Holocaust Memorial, which created the "Righteous Among the Nations" distinction as a way to honor people who saved Jews from the Holocaust, said it is considering awarding Hosenfeld with a "Righteous" medal.
More than 6,000 Poles have received the award.
Israel's ambassador to Poland, David Peleg, praised the recognition the Polish "Righteous" were receiving, and called them "a model of courage."
"For us, they are heroes, people with a role in both Polish and Israelis history books."

---

The Nazi saviour

Conal Urquhart

28.11.02 (THE SCOTSMAN)
'-It is well known that Stalin's secret force fabricated charges and forced confessions'-


It is the crux of the film. The Jewish pianist has almost survived the war thanks to a combination of the kindness and bravery of others and pure luck. In his desperation to find food, he roams the devastated and deserted streets of Warsaw until he finds a house that is marginally more intact than the rest. He enters through a hole blown through the wall by a shell and finds the kitchen, where among empty pots and pans he finds a tin of gherkins. In his eagerness to eat, he noisily tries to open it with a poker and shovel, the tin falls from his hands and rolls slowly to the bottom of a flight of stairs where it comes to a halt beside a gleaming pair of German jackboots.

The German officer appears bemused to find the starved man in rags and - having just watched two hours of maniacal brutality - the viewer must expect that Wladyslaw Szpilman's miraculous odyssey through occupied Warsaw, detailed in the film, The Piano, is about to come to a bloody end. In that instant, as the German actor Thomas Kretschmann confidently looks down on Adrien Brody, who plays Szpilman, it is impossible to surmise what the soldier is thinking. As anyone who has seen the film or read the book of The Pianist knows, the German soldier questions the emaciated scavenger and asks him what his job was before the war.

When Szpilman replies that he was a pianist, he orders him to prove it on a piano that remains intact in the house. Whatever was in his mind before is erased by Szpilman's rendition of Chopin's Nocturne in C sharp minor, and he provides the pianist with the food, shelter and clothing to see out the remaining few weeks of the war.

But the question remains; was his kindness driven by altruism, opportunism, or was it the arbitrary act of a man who has had the power of life and death over people deemed worthless by the Nazis for the last four years?

If the film leaves this question to the viewers' imagination, the argument is being played out for real in Israel, where the Holocaust Martyrs and Heroes Remembrance Authority (Yad Vashem) has refused to recognise the actions of Wilm Hosenfeld, the soldier who saved Szpilman, despite the pianist's testimony and the entreaties of his family, because they believe the German may have shed the blood of innocents at other times during the war.

"Wilm Hosenfeld was an officer in the Germany army. He was stationed in Warsaw for four years, during which time many large-scale atrocities occurred," says Dr Mordecai Paldiel, a director of Yad Vashem. "During this time, he rose in rank from sergeant to major. You have to ask yourself several questions, especially, 'what else did he do in Warsaw other than save Wladyslaw Szpilman?'."

The Szpilman family would like Hosenfeld to be recognised as a Righteous Gentile by Yad Vashem, an authority set up by the State of Israel to honour non-Jews who risked their lives to save Jews. It is Israel's equivalent of an honorary knighthood and the most famous Righteous Gentile is Oscar Schindler. More than 19,000 others, from peasants to priests have also been recognised making them eligible for Israeli citizenship and a generous pension.

Szpilman died in 2000 at the age of 88. By 1939, he had become a well-known concert pianist. The film begins with him playing Chopin's Nocturne in C sharp minor for Polish radio but the recording is stopped as the Luftwaffe carries out its first raid on Warsaw. The Szpilman family, non-observant Jews, are removed from their jobs, abused in the streets, moved to the Warsaw ghetto and finally transported to Treblinka. The pianist is recognised by a Jewish auxiliary policeman, who hauls him from his family as they are forced onto the cattle trucks, saving his life in the most cruel way.

Szpilman has to rely on countless others as he is moved from ghetto to safehouse before being forced to fend for himself as Warsaw is reduced to rubble when the whole city rises against the occupier. After being saved by Hosenfeld, Szpilman tries to return the favour but without knowing his name, there is little he can do. The film ends with Szpilman returning to Polish radio to continue his Chopin recording.

Hosenfeld was captured by the Red Army and stood trial for war crimes. Found guilty, he was sentenced to death, which was commuted to 50 years' hard labour. He died in 1952 in unknown circumstances. The German's son Detlev, says that it was wrong for Yad Vashem to use the Soviet conviction to blemish his father's name. "It is well-known that the NKVD (Stalin's secret police) fabricated charges and forced confessions in 1949 and 1950. In 1950, my father tried to appeal against his conviction but his right was refused," he says.

Andrzej Szpilman, the son of the pianist, also disregards the convictions and says that all the available evidence suggests that Hosenfeld had consistently used his position as a German officer to help Jews and other people threatened by the Nazis. The two families became acquainted after Hosenfeld's wife contacted the pianist. As the pianist bid farewell to Hosenfeld, he said: "If anything happens to you, if I can help you then in any way, remember my name, Szpilman, Polish radio."

The pianist, who became a celebrity again in Poland, organised a meeting with the head of the Polish secret service, who offered platitudes but did nothing. It was the least he could do for the man he described as "the one human being wearing a German uniform that I met".

Later, in 1998, Detlev Hosenfeld was present at the Szpilman home in Hamburg when Szpilman signed his testimony, requesting that Wilm Hosenfeld be recognised as a Righteous Gentile. But Paldiel warns of being blinded by Hosenfeld's good deed. "We recognise what Hosenfeld did for Wladyslaw Szpilman and we applaud it but the title of 'Righteous among Nations' is Israel's highest honour and we have to set a high test for it. It is not enough to do a good thing, one must not have done other bad things as well. We know of many people who were involved in the Holocaust that also saved people and we cannot rule out that any person, even a criminal, may somewhere have a soft spot in his heart."

When Yad Vashem first received Szpilman's testimony regarding Hosenfeld, it began making inquiries. It found that Hosenfeld had joined the Nazi party in 1935 and was drafted into the army as a sergeant in 1939. By the end of war he was a major. Hosenfeld's first responsibilities included organising recreation for German troops stationed in Warsaw but he later became an adjutant to General Stahl, the military commander of Warsaw. According to Paldiel it is difficult to imagine that he could avoid dirty work and be promoted. As the adjutant to the general, he was involved in a unit responsible for interrogating Poles captured during the Warsaw uprising in 1944.

"We don't know precisely what Hosenfeld did during these interrogations but we do know that Nazi interrogations were often not humane," says Paldiel.

During his time of hard labour, Hosenfeld, according to his family, was taunted and beaten for his claim to have saved a Jew. However, Paldiel says the charges against Hosenfeld could not be ignored without investigation. "We are not in the habit of dismissing things only because they were done by the Russians. The Russians did not try every German officer for war crimes yet they tried Hosenfled and sentenced him to death."

It is possible that there are records which could clear Hosenfeld's name. Court transcripts are believed to be languishing in Minsk, the capital of the former Soviet republic of Belarus, but numerous requests for access by Yad Vashem have been ignored. Other evidence of Hosenfeld's kindness do exist. A woman in Australia testified that he saved her brother, Leon Warm, after he escaped from a train bound for Treblinka. Hosenfeld sheltered him and procured him false papers. "Hosenfeld first saved Jews in September 1939, and he continued to do it throughout the war," says Andrzej Szpilman. "To my knowledge, he helped at least four people and I think there were probably many more. I know that we owe a lot to Mr Hosenfeld. Without him, my father would not have survived and this film could not be made."

Szpilman points out that in Hosenfeld's diaries, published with the latest edition of the book of The Pianist, the officer emerges as a sympathetic character. He was a school teacher and initially supported Hitler because he felt Germany had been humiliated by the Treaty of Versailles. As the war began and the brutality escalated, he became disillusioned. As the war nears its end, he writes that all Germans will have to pay for the crimes of the Nazis. Hosenfeld's pocket diaries, which in themselves could have put his life in danger, suggest that his kindness to Szpilman was in character.

But Roman Polanski, the director of The Pianist, himself a Polish Jew who survived the Holocaust, is ambiguous in his portrayal of Hosenfeld. The German appears smart and powerful and questions Szpilman without any hint of his intention. He toys with Szpilman, as if deciding whether to kill him or save him. His decision to help the pianist after hearing him play appears either idiosyncratic or opportunistic. He knows the war is all but over and the actions of the Nazis will soon be scrutinised and this is not the time to alienate any potential saviour. We can only wonder what would have happened if Szpilman had played Chopsticks rather than Chopin.

Andrzej Szpilman does not share this view of Hosenfeld and believes that Israel's refusal to recognise his humanity stems from the fact he was a German officer.

"They just don't want to recognise a German soldier as a human being. Ultimately, I don't care about it. They have made themselves irrelevant. At least three million people have read the book and they will know the truth."

Yad Vashem insists its decision is not final and that Hosenfeld may be declared a Righteous Gentile. If the transcripts of Hosenfeld's trial reveal the charges to be fabricated, a tree may be planted in his honour in the Avenue of the Righteous Gentile at the Yad Vashem Holocaust Memorial Park on the outskirts of Jerusalem. However, it is more likely that the transcripts will offer little clarity and Hosenfeld's humanity, like that of millions of Germans who lived through the Nazi regime, will remain a grey area.
---
WILM HOSENFELD
Ha'aretz
A nocturne to life
By Michael Handelzalts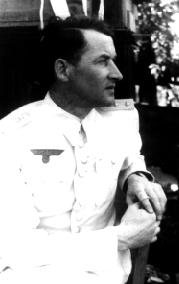 I heard the name of the pianist, Wladyslaw Szpilman, from my father, a Warsaw musician of Szpilman's generation who must certainly have heard his music and met him after the war. So, when I saw that his book, "The Pianist: The extraordinary true story of one man's survival in Warsaw, 1939-1945," came with a CD, I picked it up also because of its family musical connection. Yes, I listened to the music with much pleasure (it's a shame the particulars of the works are printed only on the CD itself); Szpilman was indeed an exciting pianist. On the CD accompanying the book, he plays Busoni's transcription of Bach's Chaconne, and Chopin, lots of Chopin - the mazurka, opus 17, no. 4, which my father often played, and the nocturne in C sharp minor...
... The book and his story are a rare document, with a human significance that goes way beyond the boundaries of the period with which it deals, 1939-1945, or the place in which it all happened, Warsaw.
From the article by Ayelet Negev in Yedioth Ahronot, in which she interviews Szpilman's son, Andrzej, I learned that Yad Vashem refuses to recognize Hosenfeld, the German officer who saved Szpilman, as one of "the righteous among the nations," fearing he may have participated in the murder of Jews and despite solid evidence that he, in fact, saved a number.
As a result, the hope expressed by Biermann, that Szpilman and his son would plant a tree in the name of Hosenfeld along the avenue of The Righteous Among the Nations at the Holocaust memorial site cannot be realized.
Photo: Kpt. Wilm Hosenfeld in 1944
---
Who Chooses the Righteous Gentiles?

By Guardian Newspapers, 11/13/2002
...The campaign to win recognition for Bonhoeffer has implications for a case built around the success of Roman Polanski's film The Pianist - the story of a Jewish pianist, Wladyslaw Szpilman, in the Warsaw ghetto.
Szpilman's son, Andrzej, has for years sought recognition for the German officer who helped his father, Wilm Hosenfeld.
Szpilman says that Hosenfeld's diary is evidence of his assistance to Jews.
"I just cannot understand how we have been able to commit such crimes against defenceless civilians, against the Jews. I ask myself again and again, how is it possible?" Hosenfeld wrote.
Mordechai Paldiel, the director of the Righteous Among the Nations department, rejected the application because Hosenfeld was a uniformed German soldier who served on the Russian front at a time when atrocities against Jews and non-Jews alike were widespread.
After Hosenfeld was taken prisoner by the Russians at the end of the war he was convicted of war crimes against Polish civilians. He died in captivity in 1952.
Andrzej Szpilman says the Russians fabricated the accusations...
---
Has Satan taken on a human form?

By Benjamin Z. Kedar

www.Haaretz.com
August 6, 2004

Anyone who has seen Roman Polanski's film "The Pianist" remembers the scene in which a German officer listens to Polish-Jewish musician Wladislaw Szpilman playing, hides him in an attic in Warsaw and sees to his needs.

Anyone who has read Szpilman's book remembers that when the musician asks his savior whether he is a German, the latter replies emotionally: "Yes! And I am ashamed of this, after everything that has happened." Szpilman, who was afraid that if he fell into the hands of the Germans he would break down and reveal his rescuer, preferred not to know his name.

Thus it happened that only in the epilogue that Wolf Biermann added in 1998 to the new edition of Szpilman's memoirs, was it revealed for the first time that the German officer was called Wilm Hosenfeld, and some details about his life story were given. In an appendix to this edition some extracts from his diary for the years 1942-1944 were given, in which he condemned the horrors that he witnessed.

Biermann did not content himself with an epilogue. At around the time of its publication, Biermann called upon the German defense minister at the time, Volker Ruehe, to rescue Hosenfeld from oblivion and present him as a role model for the soldiers of the German army. Ruehe indeed ordered the German institute for military history to research the man's biography. The results of the institute's work were published recently in a large volume edited by Thomas Vogel.

It turns out that Hosenfeld left behind very extensive documentation: letters, diaries, professional impressions, chapters of memoirs and pictures. His five children carefully preserved all of these, though quite surprisingly they never saw to their publication. Vogel decided to put at the center of the book the documentation from the days of World War II (even so, with some excisions), and with respect to the earlier periods he confined himself to selected passages. Nevertheless the book makes it possible to follow the fascinating character of Hosenfeld, who is indeed deserving of a biography that is based on all his writings. Presumably in our era, when micro-history of "common people" has become a desired direction of research and "the other" has become a central character, such a biography will indeed be written. Likewise, historians like Ian Kershaw and Dov Kulka, who for years have been researching public opinion in Nazi Germany through secret reports of government agents, will see Hosenfeld's writings as a treasure trove.

Wilm Hosenfeld was born in 1895, the son of the principal of a village school. He studied at a Catholic teachers' seminary in Fulda near the village where he was born, served in the army in World War I and, during the period between the wars, worked as a teacher in a village, also near Fulda. The memoirs he wrote in 1917 while he was recovering from a serious injury testify to his integrity and his talent for narrative. He writes about the deathly fear that paralyzed him under a Russian bombardment, about the sense of release upon launching into the attack, about troubled dreams while sleeping in a trench, about his failed attempt to stop his men from fleeing and about how he crawled backward after he was wounded. His notes from his first days as a teacher indicate a considerable measure of nonconformity. He rejects the accepted method whereby, as he says, the teacher is a tyrant and the children are disciplined subjects, and he tries to make learning an experience that builds character.

Quickly dispelled hope

After Hitler's rise to power, Hosenfeld moved toward national socialism: In 1933 he joined the Sturm Abteilung (SA), Hitler's brownshirts, and the Nazi teachers' organization, and in 1935 he joined the Nazi Party itself. He admired Hitler's speeches, was thrilled by the annexation of Austria in 1938 and justified the occupation of Czechoslovakia a year later. However, he took a critical stance with regard to subjects that were dear to his heart. As an educator, he was opposed to changing Saturday from a regular school day to a day for the Nazi youth movement, and to accepting the principle that "youth should lead youth." As a Catholic, he came out at a teachers' conference against Alfred Rosenberg's book "The Myth of the 20th Century," and therefore his supervisor determined that he was "not 100 percent national socialist" and banned him from advanced studies.

In May, 1937, Hosenfeld wrote in his diary that in its fight against the Catholic education system, "the party puts into operation lies, distortions and vilifications and when this does not suffice - terror as well." He was angry because at a teachers' conference, not a single Catholic teacher stuck up for his opinion, and noted, "Nor did I. The cowards left me to my own devices, and why should I defend a lost cause?"

On November 12, 1938, three days after Kristallnacht, he wrote for the first time about Nazi deeds that did not concern him personally: "Anti-Jewish pogroms in all of Germany. A terrible situation in the whole country, with no law and order, and at the same time, outwardly, hypocrisy and lies."

A few days before the outbreak of World War II, Hosenfeld, at the age of 44, was conscripted into a home front unit that a short time later was given the task of establishing, in Poland, a prisoners' camp and guarding its thousands of inmates. A sergeant who was put in charge of one part of the camp, Hosenfeld wrote about the prisoners with admiration, evinced empathy for their suffering, was impressed by their Catholic piety and expected a German-Polish reconciliation. In a letter to his son from September 30, 1939, he revealed how he saw the situation at that time: He justified the war against Poland, heaped praises on Hitler and hoped that just as he had determinedly enlisted Germany for the war, he would also enlist it for the peace that would last for 50 years.

But this hope was quickly dispelled: On November 10, Hosenfeld wrote to his wife that he had been shocked by Hitler's speech, as it became clear that what he intended was war. He also expressed the concern that the authorities were plotting to exterminate the Polish intelligentsia, and added: "How glad I was to be a soldier, but now I would like to tear my gray uniform to shreds. Must we serve as a shield behind which these crimes against humanity are taking place? The Wehrmacht is not to blame and it does not agree with all this, but we stand impotent on the sidelines and have to see all this." The distinction between the war criminals and the soldiers is a recurring motif in his writings, and he also repeated it when he was interrogated in Russian captivity.

When the war was going well for Germany in the spring of 1940, Hosenfeld rejoiced. In a letter to his wife from May 24, 1940, he called Hitler a genius; a month later he wrote that the war would be won by brutal force. He also hoped to be transfered to the front. He did, however, receive officer rank and in 1940 was posted to Warsaw, where he set up a sports program for soldiers serving in the city and its environs. His notes teach a great deal about the routine of the life of the Wehrmacht soldiers in the occupied capital of Poland and outside it, about the rumors that were rife among them and the jokes.

Shocked by the horrors

Hosenfeld witnessed acts of harassment of Jews and Poles and heard about the Germans' mass slaughter of Jews. These things enraged him. He condemned them not only in his diary, but also in his letters; it turns out that he was not afraid of the military censors. Moreover, he expressed his opinions in conversations with his colleagues: "an argument [took place] at lunch about the executions of Jews and prisoners," he wrote in his diary on September 12, 1941. He was, however, aware of the risk in this: On another occasion he summed up in his diary an argument about the extermination of the Jews that he and his commander had with an officer in Minsk, and added that immediately afterward, he felt that he had revealed too much and that he could be accused of subversion.

But his statements in condemnation of the acts of murder, as well as his repeated participation in masses at Polish churches and the ties of friendship that he developed with Poles, did not stir any reaction from the authorities. It turns out that a German officer was able to evince a considerable measure of nonconformity without being punished. It is worth noting that Hosenfeld mentions others who were also shocked by the acts of horror.

The letters and the diary testify to the analytical powers of the village teacher Hosenfeld. Thus, for example, he wrote in his entry of July 23, 1942 that he cannot adopt the prevailing opinion that Germany is close to victory, because tyranny is always short-lived and sooner or later the German methods of oppression will arouse a counter-response. "The urge to liberty is imprinted in every individual and in every nation, and it is impossible to repress it over time." Indeed, the information at his disposal relates only to Poland, and this only in a fragmentary way, but he assumes that what is happening in other countries is not essentially different.

The entries also make it possible to follow the movements back and forth in Hosenfeld's thinking. On that same July 23, 1942, he wrote in his dairy that reliable people had told him about the extermination of the Lublin ghetto and the murder of most of its inhabitants, and about the poisoning of Jewish men, women and children from Lodz and Kutno in motorized gas vans. And he added: "But it is impossible to believe all these things and I hesitate to believe them, and not only out of worry for the future of the German people that one day will have to atone for these monstrous deeds, but also because I do not want to believe that Hitler wants such a thing, that there are Germans who give such orders. There is only one explanation: They are sick, abnormal or insane."

It is possible that his inability to believe was related here with a certain degree of rhetoric, because on that very same day Hosenfeld wrote to his wife about the genocide of the Jewish people, its men, women and children, as an unprecedented fact in history. "Has Satan indeed taken on human form? I have no doubt that this is so." He is so ashamed that he wants to sink into the ground. But here, too, he makes a distinction between the criminals and the soldiers, and asks bitterly whether soldiers are dying at the front in order to allow the carrying out of the acts of slaughter behind the front line.

`Partners to the guilt'

Hosenfeld himself, of course, was one of the soldiers. The very next day, on July 24, he joyfully informed his wife and his children that he had been promoted to the rank of Hauptmann (captain), and on the following day he wrote in his diary that if it were true, what was being bruited around town, that is - that the Jews were being taken to something like crematoria where they are burned alive - then it was not an honor to be a German officer and it was impossible to continue to bear the burden. "But indeed all this is insanity, it is impossible." Further on, he tried to explain to himself why the Jews were not resisting, he condemned as an act of folly the use of Ukrainian and Lithuanian police who did not know how to keep the extermination secret, and he wound up by saying that there was no doubt that the Jews were disappearing - the way they were being destroyed was a secondary question.

Four days went by and Hosenfeld went back to discussing in his diary "the unbelievable crime of the slaughter of the Jews." But this time he emphasized the pragmatic dimension in his diary. In his opinion, the crime was proof of Hitler's blood-soaked dilettantism, because of which he was ignoring international public opinion and adding sworn enemies to his existing enemies. Only six days earlier Hosenfeld did not want to believe that Hitler had ordered the murder of Jews, and now he was presenting the murder as exemplifying his failed way of ruling.

An entry from August 13 describes acts of horror in the Warsaw Ghetto, about which he has heard from a Polish merchant who went there to do business and was shocked by what he saw and heard. Hosenfeld adds: "It is impossible to believe all these things, even though they are true. Yesterday I saw two of these beasts in the tram. They were holding whips in their hands when they came out of the ghetto. I would like to throw those dogs under the tram. What cowards we are, wanting to be better and allowing all this to happen. For this, we too will be punished, and our innocent children after us, because in allowing these evil deeds to occur, we are partners to the guilt."

Statements like these, and even sharper ones, are repeated again and again. For example, in Hosenfeld's description of the suppression of the Warsaw Ghetto uprising, he sums up: "Because of this horrifying mass murder of the Jews, we have lost the war. We have brought upon ourselves disgrace for which there is no atonement, a curse for which there is no reprieve. We are not worthy of mercy, because we are all partners to the guilt." Hosenfeld's Catholic faith is very much in evidence here.

Against this background, it is easy to understand that Hosenfeld tried to aid persecuted Poles and Jews, and also to help a communist German soldier, who had been in the concentration camps. He employed some of them in the sports stadium that was under his command. In his interrogation in Russian captivity, he later gave the names of four Jews he had saved - among them "Wladislaw Szpilman, a pianist in the Polish Radio orchestra."

In August 1944, the Polish revolt broke out in Warsaw, and Hosenfeld, who was now the deputy intelligence officer at the local Wehrmacht headquarters and interrogated rebels who had been taken prisoner, tried in vain to obtain for them the status of prisoners of war. In a letter to his wife from August 23, he expressed his admiration for the rebels' "fierce patriotism," but also his regret about "the stupid manner" in which some of them had found their way to the underground, and wrote that "we cannot sparethem." However, he did try to save some of those who were interrogated, and according to his testimony in Russian captivity, he personally sent 20 to 30 who were suspected of aiding the underground to detention camp. As he wrote to his wife on August 23, "I am trying to save anyone who can be saved." The first part of the sentence was chosen by Vogel, the editor, to serve as the title of the book.

In the middle of January 1945, Hosenfeld was taken prisoner by the Russians. In his interrogation he described his activities in detail and accused a list of German officers of war crimes. Vogel obtained the transcripts of the interrogations and they appear in the book. In his letters to his family, which are full of quotations from the Scriptures, Hosenfeld mentioned the names of the people he had saved. Some of them, including Szpilman, indeed tried to intervene on his behalf, but to no avail. In 1947 Hosenfeld suffered his first stroke and thereafter spent long periods in the infirmaries of the prison camps. He continued to hope that he would be released, but in 1950 a military court in Minsk sentenced him to 25 years' imprisonment because of his activity guarding Polish prisoners of war in 1939, and because of his participation in suppressing the Polish revolt in 1944 in Warsaw.

It is quite possible that the integrity that distinguished him in his interrogation worked against him. In any case, Hosenfeld was transferred to a sentenced prisoners' camp in Stalingrad. His health deteriorated and he died in August of 1952.

"Wilm Hosenfeld - A German Life Story" is what the editor, Vogel, called the extensive essay that precedes the letters and the diary extracts. This is a title that could be deceptive. Indeed there is a danger that the nonconformist Hosenfeld, who was sentenced by a Soviet court as a war criminal, will be taken up by the German armed forces and presented as a quite typical example of the officer class. Most unfortunately, this was not the case.


"Wilm Hosenfeld, Ich versuche jeden zu retten: Das Leben eines Deutschen Offiziers in Briefen and Tagebuchern," edited by Thomas Vogel, Deutsche Verlags-Anstalt, 1,994 pages, Munich, 2004 29.90 euros.


---
20minuten.ch Akt. 17.02.09; 14:57 Pub. 17.02.09; 14:38

«DER PIANIST»
Holocaust-Gedenkstätte ehrt Wehrmachtsoffizier

Der Wehrmachtshauptmann Wilm Hosenfeld, der durch den Film «Der Pianist» berühmt wurde, ist in Israel postum als «Gerechter unter den Völkern» geehrt worden.

Der Pianist ist die Verfilmung der 1999 in London publizierten Autobiographie «The Pianist» des Polen Wladyslaw Szpilman. Regie führte der polnisch-französische Regisseur Roman Polanski, der selber während des Krieges im Krakauer Ghetto überlebte und seine Mutter in Auschwitz verlor.
Der Film erhielt 2003 drei Oscars für die Beste Regie (Roman Polanski), den Besten Hauptdarsteller (Adrien Brody) und das Beste adaptierte Drehbuch (Ronald Harwood).
Die israelische Holocaust-Gedenkstätte Jad Vaschem teilte am Montag mit, eine Kommission habe die Würdigung nach Einsicht neuer Dokumente beschlossen. In Roman Polanskis «Der Pianist» (2002) wird nachgezeichnet, wie Hosenfeld den polnisch-jüdischen Klavierspieler Wladyslaw Szpilman in seinem Versteck mit Decken und Lebensmitteln versorgte.
Nach Angaben von Jad Vaschem hatte neben Szpilman auch ein zweiter jüdischer Überlebender namens Leon Wurm ausgesagt, Hosenfeld habe ihm geholfen. Die zuständige Kommission habe jedoch mit einer Würdigung gezögert, bevor nicht geklärt war, ob Hosenfeld während des Aufstands im Warschauer Ghetto an Kriegsverbrechen beteiligt gewesen war.
Ehrung: Kaczynski verleiht deutschem Wehrmachtsoffizier hohen Orden

Hauptmann Wilm Hosenfeld ist posthum mit der der Polonia Restituta-Medaille , einem der höchsten Orden des Landes ausgezeichnet. Er verhalf im Zweiten Weltkrieg etwa zwölf jüdischen und nichtjüdischen Polen zur Flucht.
Unter ihnen war auch der Konzertpianist Wladyslaw Szpilman, der Held von Polanskis Film "Der Pianist" aus dem Jahr 2002. Szpilman war der Deportation durch die Nazis entgangen, indem er sich gegen Ende des Warschauer Auftands 1944, wenige Monate vor der Offensive der Roten Armee, in den Ruinen der polnischen Hauptstadt versteckte. In Polanskis Film entdeckt er in seinem Versteck ein Klavier. Der von Thomas Kretschmann dargestellte Hosenfeld ist von Szpilmans Talent so fasziniert, dass er ihm hilft. Hosenfeld wurde 1945 von sowjetischen Truppen festgenommen und wegen Kriegsverbrechen zum Tod verurteilt. Die Strafe wurde später in 25 Jahre Arbeitslager umgewandelt. Hosenfeld starb 1952 in Kriegsgefangenschaft. Szpilman setzte seine Musikerkarriere nach dem Krieg fort. Er starb im Jahr 2000.
Hosenfelds Tochter, Jorinde Krejci-Hosenfeld, die den Orden zusammen mit ihrem Bruder Detlev, entgegennahm, sprach von einer "großen Ehre". Ihr Vater sei "so unglücklich" über das gewesen, "was hier im Namen des deutschen Volkes passiert ist".
Auszeichnung zur Rettung von Juden
Kaczynski zeichnete insgesamt 53 Menschen - überwiegend Polen - aus, die unter der Nazi-Besatzung in Polen zur Rettung von Juden beitrugen. Zu den zehn posthum Geehrten gehörte der während des Zweiten Weltkriegs im litauischen Kaunas stationierte japanische Diplomat Chiune Sugihara. Obwohl seine Regierung dagegen war, stellte er Transitvisa für 2500 litauische und polnische Juden aus, die dadurch dem Holocaust entgingen.
Der polnische Präsident würdigte in seiner Rede im Großen Theater den "außergewöhnlichen Heroismus" all derer, die unter der deutschen Besatzung in Polen Juden retteten. Die Auszeichnungen seien Ausdruck des Dankes und der Ehrerbietung. Nicht alle, die es verdienten, könnten ausgezeichnet werden, weil nicht alle bekannt seien. (mit AFP)
© ZEIT online, Tagesspiegel | 10.10.2007 23:50

---
Kurzbiographie Wilm Hosenfeld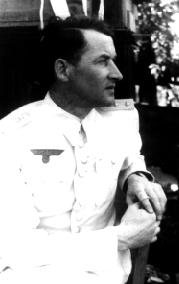 Wilm Hosenfeld wurde am 2. Mai 1895 als viertes von sechs Kindern
eines katholischen Lehrers in dem Rhoendorf Mackenzell geboren.
Nach Abschluss seiner paedagogischen Ausbildung nahm er von 1914
an als Infanterist am ersten Weltkrieg teil. Er kehrte 1917 schwer
verwundet in die Heimat zurueck.
Ab 1918 wirkte er sozial und christlich engagiert als Dorfschullehrer,
zunaechst im Spessart, dann in Thalau, bei Fulda.
1920 heiratete er Annemarie Krummacher, Tochter eines Worpsweder
Malers. Aus dieser Ehe gingen fuenf Kinder hervor, die spaeter
alle medizinische Berufe ergriffen.
Bei Ausbruch des zweiten Weltkrieges kam Wilm Hosenfeld, inzwischen
44 jaehrig, mit einem Landesschuetzentzenbataillon nach Polen. Von
1940 bis 1944 gehoerte er als Reserveoffizier der
Oberfeldkommandatur in Warschau an. Er leitete dort die Sportschule.
Mit Naeherruecken der russischen Truppen auf Warschau wurde Wilm
Hosenfeld im Herbst 1944 Kompaniefuehrer und geriet im Januar 1945
in russische Kriegsgefangenschaft. Von seiner Schuldlosigkeit
ueberzeugt, gab er freimuetig an, dass das von ihm gefuehrte
Sportamt organisatorisch der Abteilung Ic unterstand. Neben der
Truppenbetreuung nahm diese Abteilung auch nachrichtendienstliche
Aufgaben wahr. Um von Wilm Hosenfeld Informationen ueber seine
vermeintliche Geheimdienstliche Taetigkeit zu erzwingen, setzte man
ihn dem sogenannten ,strengen Verhoer" im Untersuchungsgefaengnis
Minsk aus. Nach sechs Monaten Isolierhaft war er ein gebrochener
Mann. Er erlitt den ersten Schlaganfall.
Ohne den geringsten Nachweis eines Vergehens, allein aufgrund seiner
Zugehoerigkeit zur Abteilung Ic wurde er 1950 als Kriegsverbrecher
zu 25 Jahren Zwangsarbeit verurteilt.
Mehrfach bemuehte er sich vergeblich um eine Auslieferung nach
Polen, weil er der Buergschaft mehrerer Polen und Juden vertraute,
denen er das Leben gerettet hatte.
Halbseitengelaehmt und seelisch verzweifelt starb Wilm Hosenfeld
am 13.8.1952 im Alter von 57 Jahren im Kriegsgefangenenlager
Stalingrad.

Anhang
Gepraegt wurde Wilm Hosenfeld durch die Prinzipien seiner streng
katholischen, aber warmherzigen Familie, durch die preussisch
patriotische Erziehung der damaligen Lehrerausbildung und vor allem
durch die Ideale des Wandervogels. Spaeter beeinflusste ihn die
protestantisch-pazifistische Denkweise seiner Frau Annemarie.
In Polen suchte er oft den Kontakt zur einheimischen Bevölkerung.
Er lernte Polnisch und wurde von polnischen Familien haeufiger
eingeladen.

In seiner Eigenschaft als Sportoffizier unterstanden ihm eine Anzahl
polnischer Arbeiter, die fuer die Pflege der Anlagen zu sorgen
hatten. Dies ermoeglichte ihm, einige Polen und Juden, die von der
Gestapo verfolgt wurden, unter falschem Namen zu beschäftigen.
Im Juni 2004 sind die Tagebücher und Briefe Wilm Hosenfelds als Buch erschienen:
"Ich versuche jeden zu retten"
von Wilm Hosenfeld



Gebundene Ausgabe - 980 Seiten - Dva
Erscheinungsdatum: Juni 2004
ISBN: 3421057761